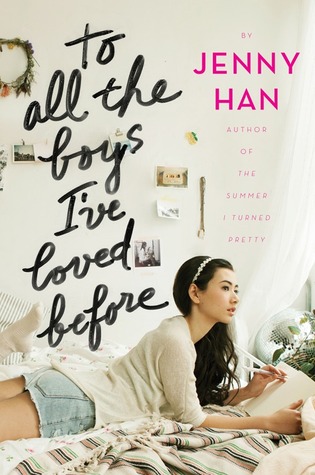 Title: To All the Boys I've Loved Before
Author: Jenny Han
Published: April 15th, 2014
Genre: YA
Rating: 4.5/5
Summary:
Whenever Lara Jean falls in love she always writes her crush a letter and puts it in an old hat box that belonged to her mother. Lara had been doing this for years it was her way of getting over her feelings and moving on. When her older sister goes to college, Lara's dad decides to start fresh and donate some things to Goodwill. Lara begins to realize that her dad sent her letters out as more boys from her past begin popping up in her life again. As more crushes from her past reappear Lara's love life gets increasingly complicated. Her neighbor Josh and her old friend Peter begin to confuse Lara's emotions and make her wish that the letters in the box should have never been sent.
Review:
I loved this book! It was witty and smart and it had just the right amount of romance to draw me in. Lara is an interesting character who makes you understand her situation. After reading Elanor & Park and 13 Reasons Why I really needed a light and entertaining read and this book delivered. I loved how the author portrayed Lara as a character she fell in love but she wasn't stupid and I feel like I would really want to be her friend. Lara Jean made me laugh and me want to get my own Peter Kavinsky.  Here are some super cute quotes I liked ❤ ;
"You only like guys you don't have a chance with, because you're scared."
"Do you know what it's like to like someone so much you can't stand it and know that they'll never feel the same way?"
"If love is like a possession, maybe my letter are like my exorcisms"
Literary Video Adaptation:
So, when I was hanging out on YouTube I found this super cool literary adaptation of To All the Boys I've Loved Before by Yulin Kuang. I'll include it down below but definitely check it out it's so cool.
XOXO,
Madison ❤
Here's a song I felt fit the book;
"I'm just a little bit caught in the middle
Life is a maze and love is a riddle
I don't know where to go I can't do it alone I've tried
And I don't know why
Slow it down
Make it stop
Or else my heart is going to pop
'Cause it's too much
Yeah, it's a lot
To be something I'm not
I'm a fool
Out of love
'Cause I just can't get enough"