Hey guys so I've been seeing this tag floating around and I most recently saw it on Book Snacks. So, I'd thought I'd do this tag to celebrate this wonderful time of the year! I hope you enjoy!
---
Crunching Leaves:The world is full of color. Choose a book that has reds, oranges, and yellows on the cover.
I choose Taken At Dusk by C.C Hunter because I absolutely love this fantasy series and this cover totally screams fall sunset to me!
---
Cozy Sweater: It's finally cold enough to wear warm cozy clothing. What book gives you the warm fuzzies?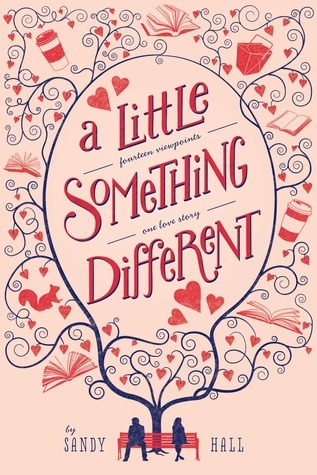 A Little Something Different by Sandy Hall is soooo very cute! I love the way she uses different perspectives and it reminds me of how sweet and sorta awkward having a crush can be :).
---
Fall Storm: The wind is howling and the rain is pounding. Choose your favorite book or genre that you would like to read on a stormy day 
As you guys know my two favorite genres are fantasy and contemporary. 🙂 This is a really hard decision but I think I'd read some fantasy books because they are the perfect addition to any stormy day. But if I were to read something contemporary I would definitely read Eleanor & Park that book is so cute. ❤
---
Cool Crisp Air: Who's the coolest character you'd want to trade places with?
I would definitely trade place with Luna Lovegood from Harry Potter! First of all her name is pretty awesome, she has some amazing friends, and she has magical powers! Also, she is super sweet and caring 🙂
---
Hot Apple Cider: What under hyped book do you want to see become the biggest, hottest thing?
I really love this book it doesn't have great review on Goodreads but I found it to be deliciously creepy and really captivating.
---
Coat, Scarves and Mittens: The weather has turned cold and it's time to cover up. What's the most embarrassing book cover you own that you like to keep hidden in public?
I actually really like this book it's just the covers a little bit cheesy. I'm mostly embarrassed by it because when I got it in seventh grade from the library my mom asked me about the cover and winked. So, that basically made it the most embarrassing book over to me after that. 🙂
---
Pumpkin Spice: What's your favorite fall time comfort food/foods?
Okay, so tea isn't technically a food but I love it during this time of the year. Specifically the Candy Cane Green Tea from Trader Joe's which is MY FAVORITE TEA OF ALL TIME! You have to try it!
---
Well, I hoped you enjoyed my tag I loved doing it it was so much fun! I tag all of you guys and if you would like just comment down below if you're planning on doing it and I'll include your blog in my post so people can check it out!
XOXO,
Madison
A SONG FROM ME TO YOU:
Little More Time by Ciaran Lavery
"Gimme just a little more time and I'll be flowing to your door.
Just like a seed all my moves are slow I'm always heading for unsure.
I like to think I'm not a complicated man, but then again I can't be sure.
So give me just a little more time, you know, you'll give me til the early morn'.
I play the flute in a rag doll suit, and you wear the overcoat.
I never wanted you more than the time you buttoned I across your throat. You held my arm like an anchor would tie itself onto a boat."